Grading Of Tea
Every tea is graded by the size of the leaves in the final product. Grading has nothing to do with flavor or taste or any other character. The final process of tea manufacturing, before packaging, is grading. The tea is separated into different sizes by passing it through various sieves. This is very important because during infusion the leaves of different sizes take a different amount of time to give the proper infusion. Thus, if small and large pieces and tea dust (called fannings or fines) are all infused together, the smaller particles are over extracted and the larger ones are under extracted.

There are three main divisions, namely leaf grade, broken and fannings. Each one is subdivided into many grades with complex terminology like fine flowering golden orange pekoe, or golden flowery broken orange pekoe or broken orange pekoe fanning, etc. Dust or fannings are generally used for teabags as they do not swell as much during infusion and brew faster.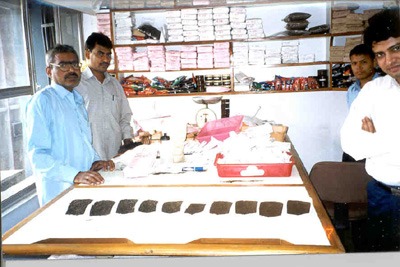 Most exporters and large tea estates have offices in Calcutta where teas are auctioned and shipped to importers all over the world. Here tea samples are prepared for potential customers.