Trip to India: Indian Coffee and Tea Regions
Date: April 21st, 2003 Photos: 34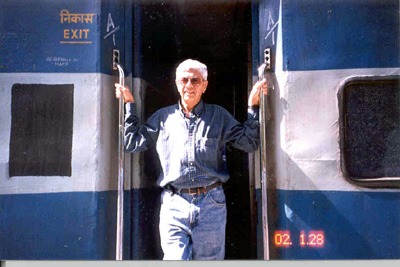 Tour to Indian Coffee and Tea production Coffee in India is mostly produced in the south. Tea is produced both in the south and in the north in Darjeeling, Assam etc. The best way to travel is by train if you have the time. It is very inexpensive and you can see a lot of the country. Some of the temples and palaces are worth the time and effort. I made a two-month back packing trip to south and north India visiting the coffee and tea farms and the wonderful architecture of palaces and temples.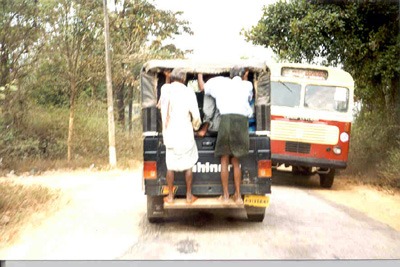 Rural transport In the country hitching a ride on cars for a small fee is a common mode of transportation very much like Guatemala and other developing countries.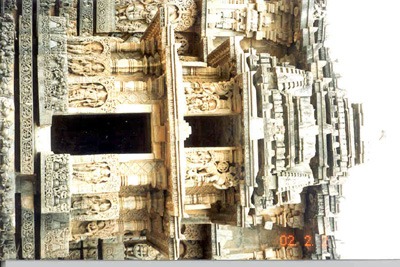 Intricate carvings on temples Very detailed carvings of Gods and religious stories out of stones adorn the walls of this temple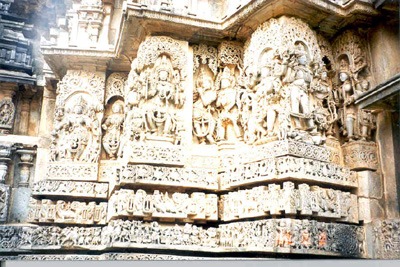 Carvings from stones Here are some more examples of intricate carvings.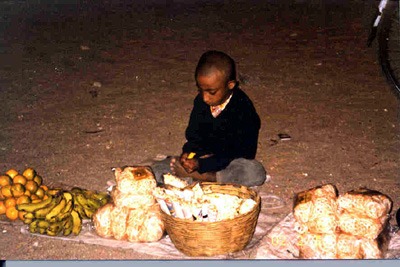 Nothing to Do with Tea Here is a young kid selling fruit on a street of Calcutta. They are streetwise but have no opportunity for formal education.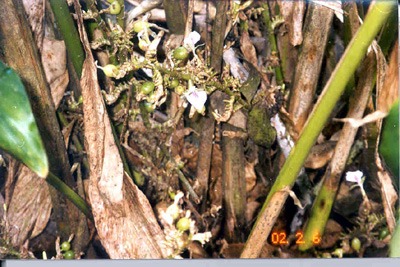 Cardamom Cardamom is often grown where coffee grows. Here you can see the flowers and cherries of cardamom. The flowers are white with stripes. They have a wonderful sweet fragrance. The cherries are green and are dried to yellowish color.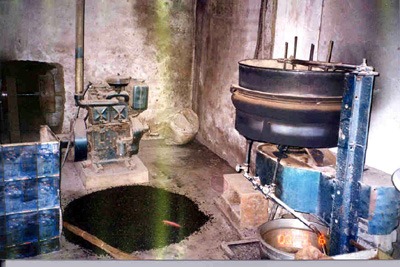 Roasting of coffee. Roasting is done on small scales by roasters in towns. The method here is crude but experience makes up for it. The coffee quality is very uniform.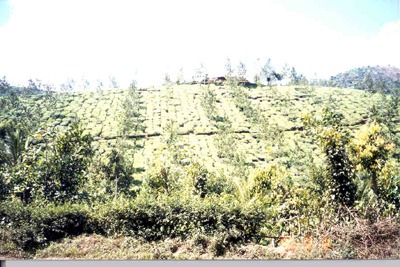 Tea plantation with young shade trees Use of shade trees for better quality and environmental sensitivity is gaining momentum. Depending upon local weather conditions this is possible only if there is enough sun unobscured by constant fog and mist.

Carpeted hills by tea plants Beautifully trimmed tea plantations look like the entire hill sides are carpeted. Tea plantations are called tea gardens and you can see why.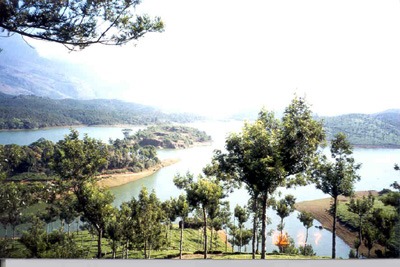 Tea plantation of South India This entire area of Nilgiries and Munar are very pretty mountainous regions suitable for high quality tea production. Many plantations are owned by big companies like Tata but there is a movement towards small farmer cooperatives. Organic tea is also gaining tremendous momentum.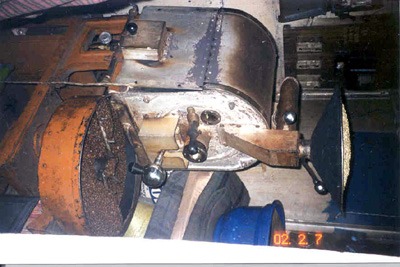 Modern Roaster There are some modern roasters. They look very much like the ones found in USA. This one has seen some years.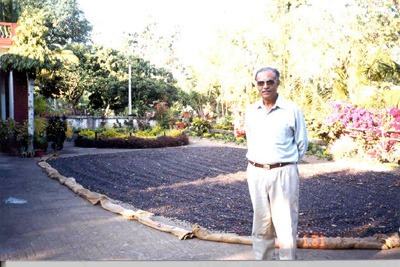 An organic coffee farm in Coorg area Above, Mr. Belliappa owns 72 acres of organic coffee farm. He has black pepper, figs, beetle nut leaves, coconuts etc, much variety for diversification. Here you can see some of the coffee cherries being dried in sun.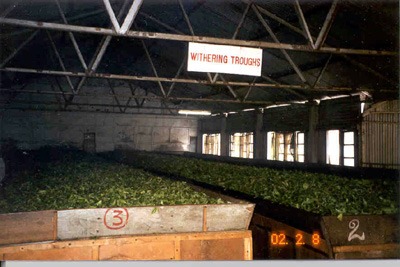 Tea Processing Plant Tealeaves are withered on benches with circulating air. Leaves dry and become supple.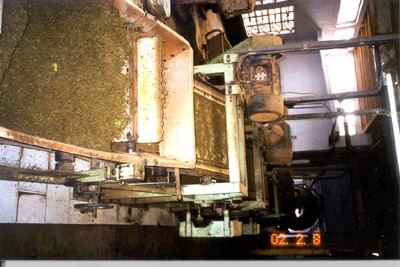 Modern CTC Process Fermented leaves go thru the process after oven drying to stop fermentation at a desired stage.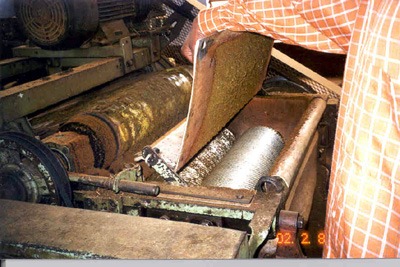 Rollers for CTC Process Leaves are cut torn and curled (CTC)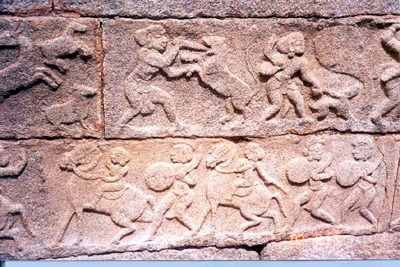 Women warriors of 12Th century. This carving shows that women were also good at the art of warfare. One is shown killing a lion with sword.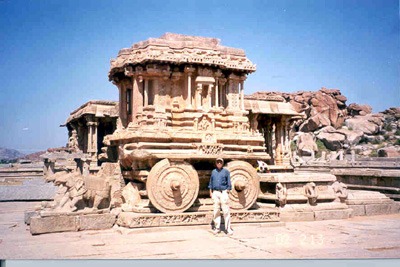 Stone chariot This stone chariot in front of the temple was carved from a single stone. The wheels can rotate. The intricate design must have taken the artists a long time.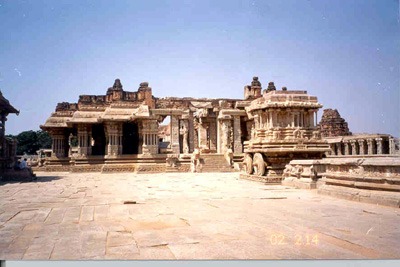 Temples of south India The architecture is unbeleivable. Things are carved out of single pieces of stones. Many temples were built around the 12th and 13th centuries by kings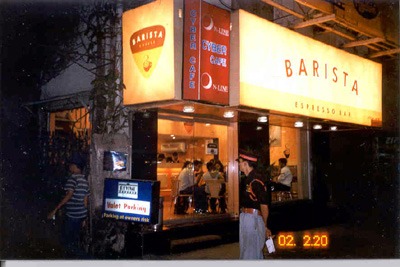 Cafe chain in Bombay. Barista is like small scale Starbucks in India. They have chain stores in big cities. One should remember that unlike central and south America India is a big consumer of it's own high quality coffees. Younger generation is into all kinds of coffee drinks copying after USA.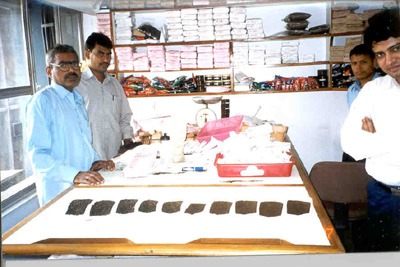 Calcutta The Tea business Hub Most exporters and large tea estates have offices in Calcutta where teas are auctioned and shipped to importers all over the world. Here tea samples are prepared for potential customers.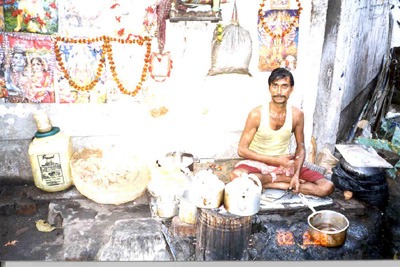 Typical Road Side Tea Stall in Calcutta. Tea is prepared Indian style and served in earthen cups, which are discarded after use. The cups disintegrate in time and hence are environmentally friendly.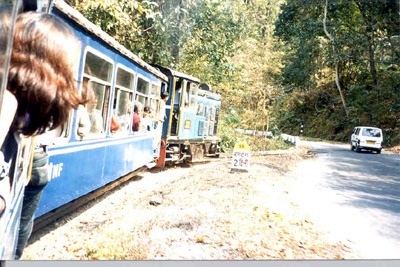 Off we go to north India tea country of Darjeeling. Here is a small train known as toy train that takes you up the mountains of Darjeeling. It took 8 hours to climb 80 Km with its steam engine.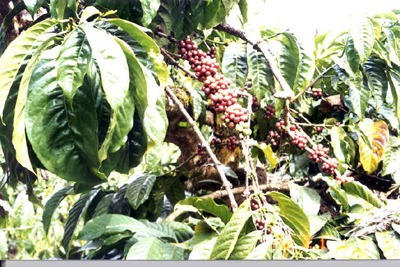 coffee plants in Coorg About 70% of India's coffee is Robusta. Specialty coffee market is primarily concerned with Arabica coffees but there are some very high quality Robustas and more attention is being given to these coffees as of late.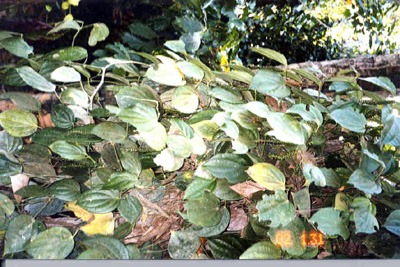 Black Pepper grows on vines on trees like rosewood. They give diversity and use shade trees.The peppers are green in color on the vine. Once dried they become black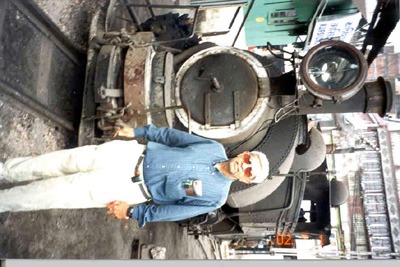 Toy train engine This small steam engine still chugs along every day taking people up the mountains to Darjeeling.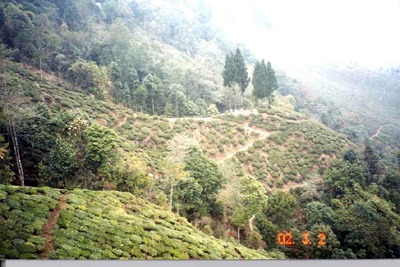 Typical Tea Garden of Darjeeling Area Much work is being done in organic and biodynamic farming. Large tea estates have been doing biodynamic farming for some years now. There are Fair Trade certified estates like Makaibary and Ambootia where workers have organized for their community welfare and are paid directly by the Fair Trade organization from the fees received from importers.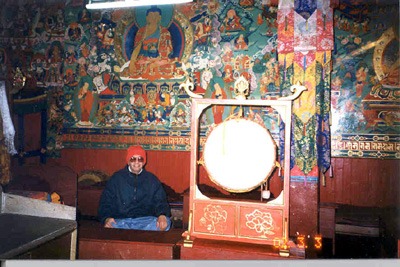 Buddhist Temple in Sikkim Colorful temples dot the area of sikkim. The Buddhist religion is observed extensively in this part.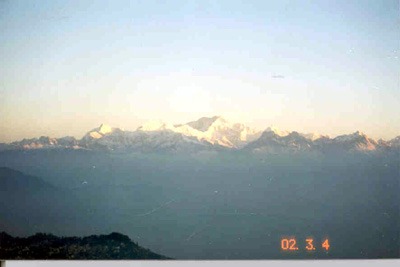 Himalayan mountain seen from Darjeeling This beautiful mountain range is called Kanchanjanga. I got up at 3 AM to get there for sunrise and it was well worth it.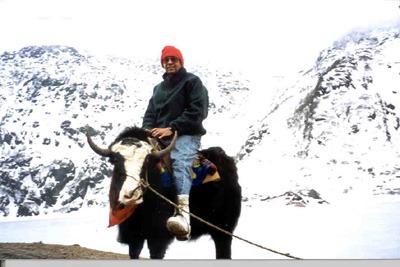 Sikkim near Indian Boarder with China Snow covered mountains and a Yak ride made it a great trip from Darjeeling. Most of the area has military presence and it is difficult to travel with a foreign passport. Luckily no one questioned me. It helped to be Indian born.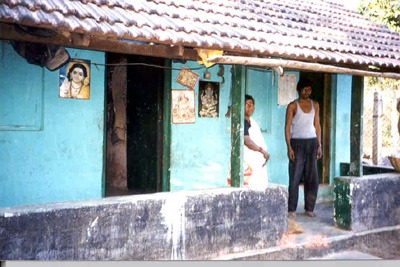 Farm labor on coffee plantation Indian government have many laws for the benefits of farm labor. This photo shows the housing provided to permanent labor. Temporary labor is a different thing. Unless the owner is fair they may not have any benefits. Posters on the wall are of Indian Gods.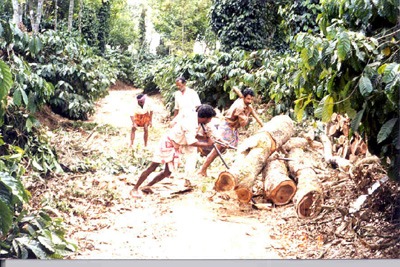 Rosewood trees being harvested Current low prices of coffee has forced many farmers to cut down old growth Rosewood trees that form a canopy for shade grown coffee.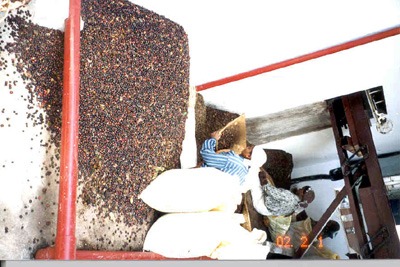 Quality control and packaging Here are dried coffee cherries being inspected cleaned and packed in bags for further processing.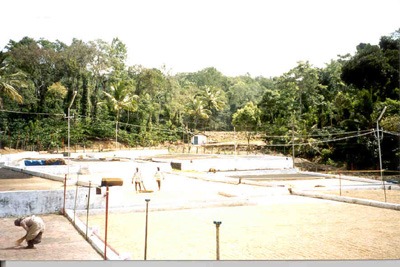 Patio drying in wet process After the pulp is removed the beans with their protective skin are dried on patios before removing the protective skin.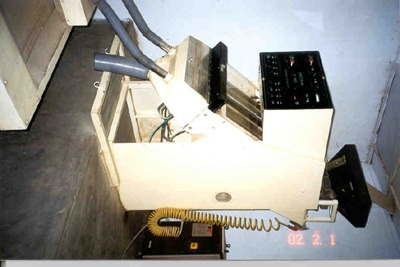 Electronic machine to separate the beans by intensity of color Here the beans are passed through light beams which sense the color intensity and separate the beans by color.